Y
ou have probably seen those adorable dresses all over the net, in stores and perhaps you have seen the material to make them, right? You should really make yourself at least one of those shirred dresses. They are perfect to go to the pool in or even for a casual evening out. Here is an easy and free sun dress tutorial.
Free Sun Dress Tutorial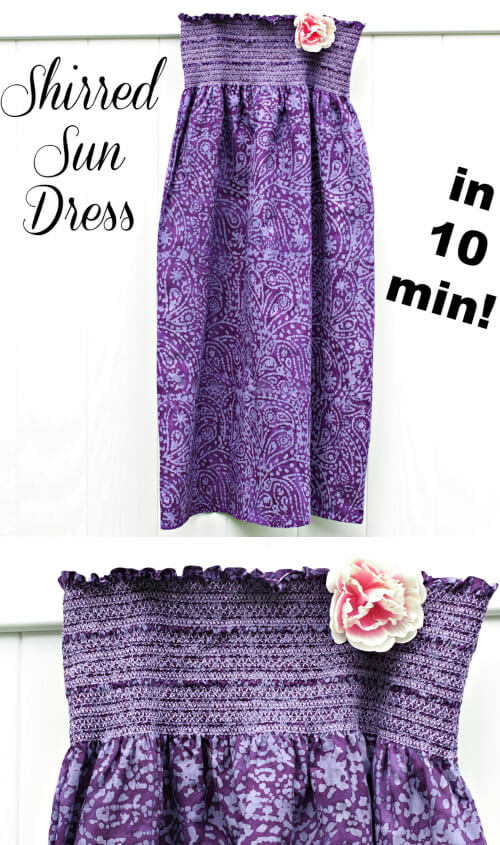 In Summer months the fabric stores carry lots of great prints of this material which is called "pre-smocked" or "shirred" fabric. Mostly cotton which makes it super comfy to wear in hot weather. The elasticized area is pretty firm and allows garments to be worn without straps or ties if the width around the chest is cut down just a tad from the actual circumference. Usually 1-2″ will help to keep the dress up 🙂
More about where to buy this material scroll to the end of this tutorial.
For this tutorial I purchased this vibrant purple tie-dye print with smocked elastic top (the flower was added by me):
What I love about this material is that it's VERY sturdy and won't unravel when cut! That's important because since it comes on a bolt it can be cut in any length. The width is normally about 42″ which makes it a great ladies dress length! For my example I left the width since I like my dresses to end at about mid calf. You can easily trim off the length by a few inches to make a shorter dress.
Ready to get started on this free sun dress tutorial? Let's go! 
1. measure yourself around the bust with a tape measure (for my size I needed 1 1/8 yd and paid around $14 on sale for it – yay!). Let's say you measure 36″ which would be one yard. Buy that one yard, prewash and dry the fabric and iron it flat.
2. with right sides together, pin and sew where the two cut edges meet along the green dashed lines with a 3/8″ seam allowance. Backstitch the beginning and end and serge/zigzag stitch the raw edge:
3. to make a fake second side seam just sew down the other side without serging/zigzag stitching with a seam allowance of 1/8″.
4. tuck in loose threads from serging and stitch them down along the dashed lines on both sides: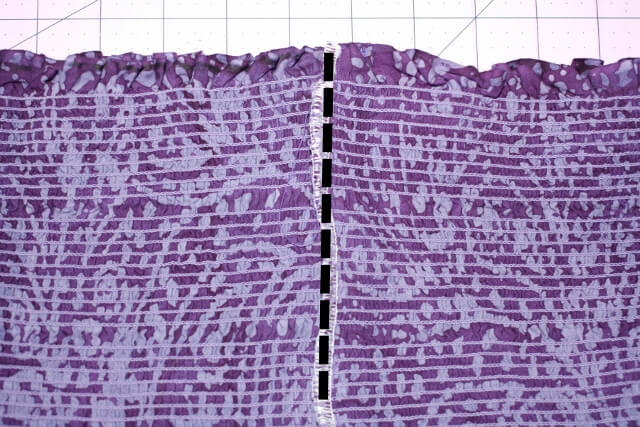 5. serge/zigzag stitch the bottom edge and fold it up 0.5″ towards the inside of the dress and press. Sew fold down along the dashed lines. Backstitch the end: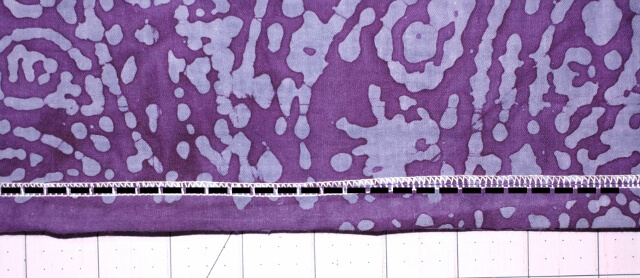 6. optional and not shown: cut 4 pieces of ribbon about 20″ long, fray check the ends and sew them to the top edge to make shoulder ties. Done!
You want to know where to buy this awesome and time saving material? Well, local fabric stores offer a great variety of prints and styles. The shirring might vary slightly and some come with smocking which is some embroidery detail work on the right side of the fabric such as in my purple tie-dye fabric.
Stores mostly offer 1 yard for around $25 which is still not bad if you consider you will get an XL dress from it for yourself! For smaller sizes you may only need 3/4 yd and pay less!
And remember to sign up to your local fabric store's mailing list to receive coupons and specials. My fabric was on sale for 40% off! Sometimes you can even save 50%!
There are also a few online sources for this material. Find it at  or EBAY for "pre-smocked", "smocked" or "shirred" fabric. I came across a great online site that has awesome prices which is FIELDS FABRIC ONLINE.
Love it? Please pin/share/tweet this post!