Today I want to show you a cute way to add ruffles to bloomers that have a straight leg hem. Use any sewing pattern you like or have on hand, on some you might have to make minor adjustments.
Free Tutorial – How To Add Ruffles To Bloomers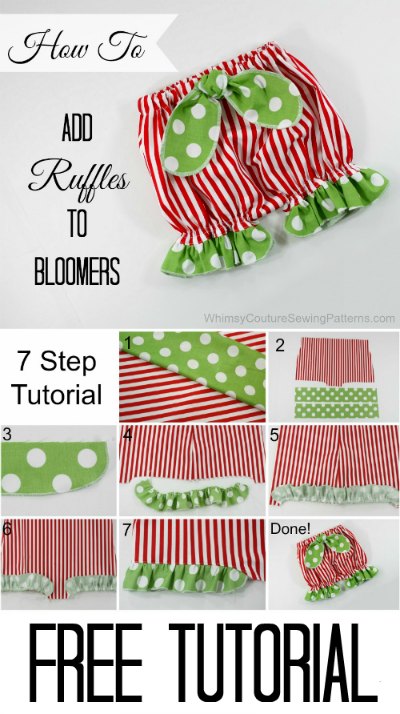 For this project I am using Whimsy Couture's 'Bubble Bloomers' for girls.
The bloomers have elastic sewn around the thigh hems which already create a small ruffle but with an added (longer) ruffle in a different print, they will look even cuter!
Ready to get started? Let's do it!
Gather your supplies:
coordinating or contrasting fabric for the ruffle
sewing machine
serger or overlock machine
straight pins
7 Step Picture Tutorial
Step 1: Gather your two fabrics, for the bloomers and for the ruffles.
Step 2: Cut out your two pieces of bloomers fabric (one piece shown only). Cut two strips of ruffle fabric about twice the width of the leg opening.
Step 3: Cut your ruffle fabric ends rounded as shown and roll hem the bottom edges
Step 4: After you have sewn the two bloomers pieces and spread them out so the side seam faces you. Ruffle your ruffle strip and place it underneath the leg edge
Step 5: Flip the ruffle up and over the leg edge and pin then sew in place
Step 6: Repeat step 3 through 5 and sew the other ruffle on. Serge or zigzag stitch the raw edges
Step 7: Fold down the ruffle and press then top stitch above the seam and finish the bloomers
Lastly: add a cute bow to the front and you are done!!!
Although these bloomers look very Christmassy, they can be made in any print and fit any outfit or holiday! 🙂
Stay connected with Whimsy Couture:
Whimsy Couture Sewing Patterns | Facebook | Blog | Twitter | Linkedin | Google Plus | Instagram | Pinterest | Tumblr