Today I want to show you how to recycle t-shirts! It may be that you have a bunch of t-shirts in your closet that you just don't wear anymore. I tend to go through my closet quite often and pick clothes out that either look too washed out or have stains that won't come out in the wash or that I simply don't want to wear anymore.
How To Recycle T-Shirts – Free Tutorial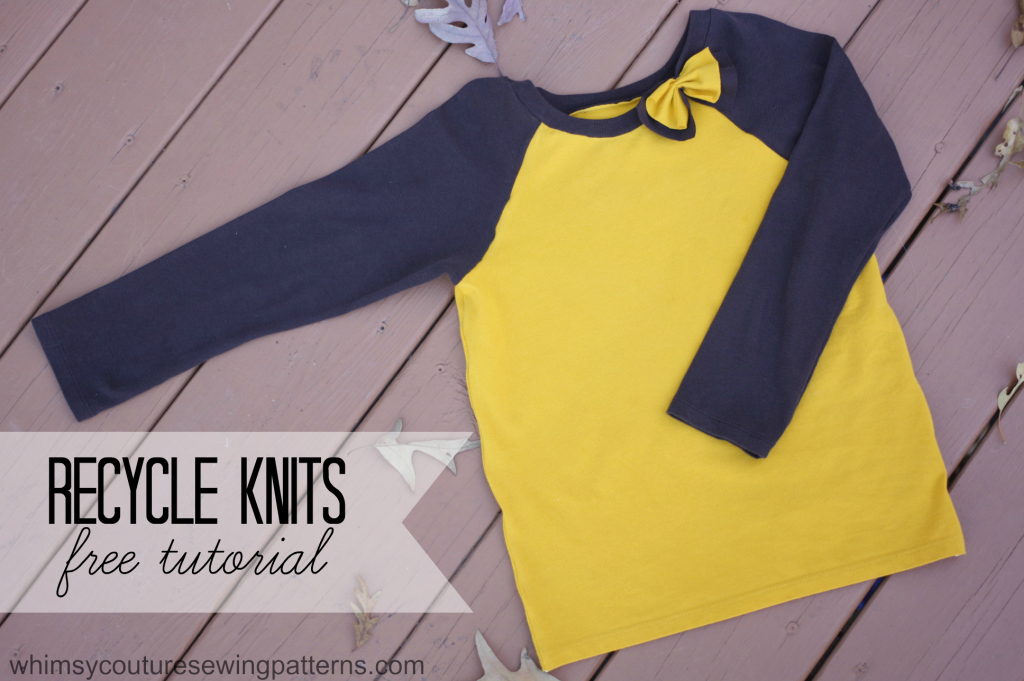 I have a full stash of those clothes in my work room closet. For this tutorial I picked these two t-shirts in coordinating colors, perfect for my daughter! She loves clothes made from knit fabric and surprisingly she loves those colors, brown and mustard! Yay!
A plus is that this tutorial will show you how the finished hems of the t-shirts will become the hems on the shirt! That means you won't have to finish any hems!! Double yay!
Let's get started!
Things you want to do before you begin:
first, determine what you want to sew and pick out the pattern or instruction. I am going to use Whimsy Couture's 'Knit Tee Dress' PDF sewing pattern, but with modifications 😉
select the shirts that have the bottom hems in tact.
check if the pattern pieces (or measurements) will fit onto the t-shirts, minus 1/2 inch for seam allowance  since you will be using the finished hems on the cut up shirts.
gather your sewing supplies such as matching thread, good scissors, straight pins, a sewing machine and a serger would be optional
Prepare your pattern template:
This step is optional because you can also use an un-modified template of course but for this project I am using a dress template and will make a pattern template for a shirt from it. I used an existing shirt from my daughter and placed it onto the knit tee dress template and traced the outline (see left picture). I folded the excess template paper down so I could reuse it as a dress again. This is now my finished and new shirt template I'll be using (right picture). The rest of the shirt pieces such as sleeve and neckband is from the knit tee dress sewing pattern.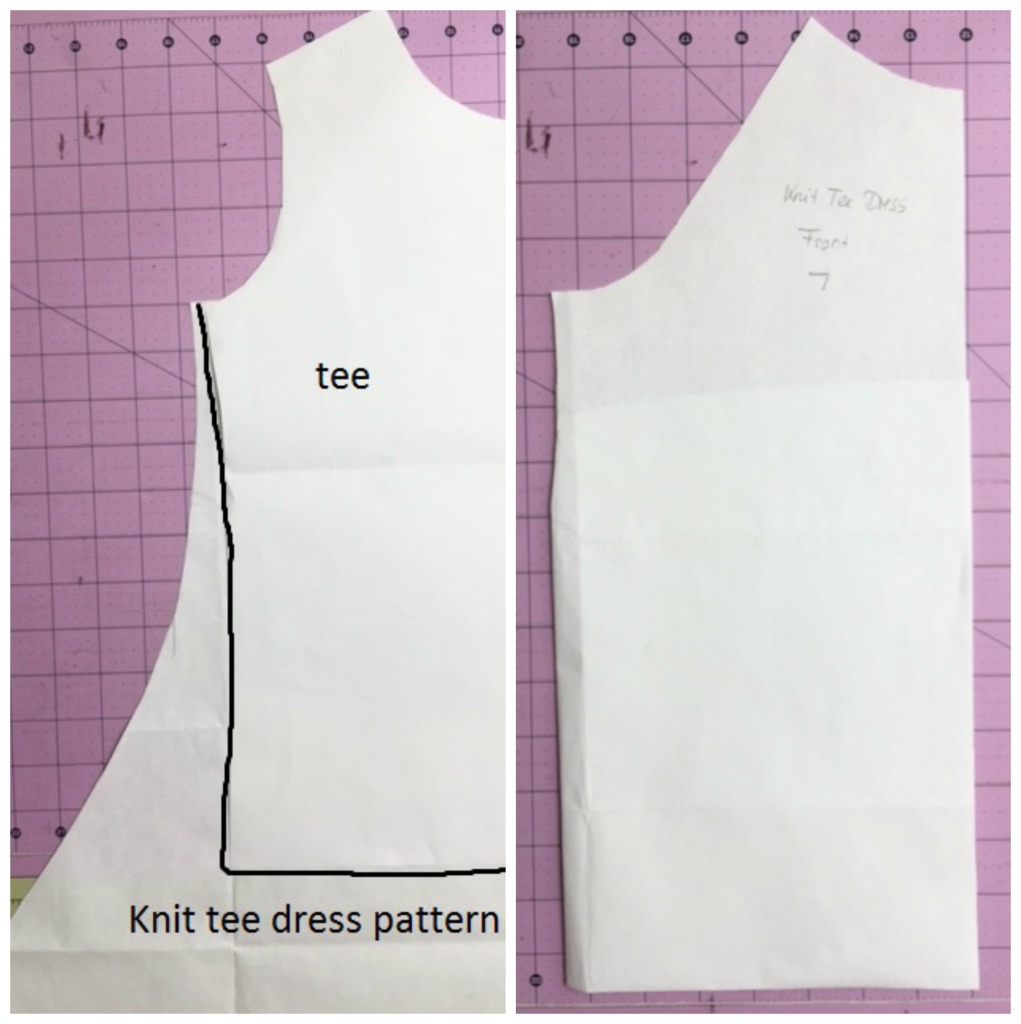 Prepare your t-shirts:
If you are working with t-shirts that are not simply flat and have gathers, ruches, seams etc. it is important to cut the t-shirt front and back apart. It will help to press the pieces before working with them!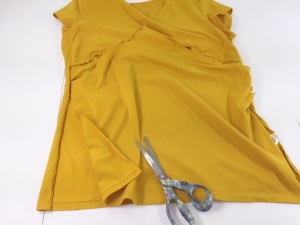 Next step is to cut out the new shirt pieces as shown:
For the bodice, fold the knit fabric piece over sideways so that the finished bottom hem remains on the bottom. Place the template onto the fabric aligning the fold marking from the template with your fabric fold just like it would be described in any tutorial. For the sleeves you may not have a fold mark on the template (like on my pattern) so place the template onto the t-shirt as shown. Cut around templates: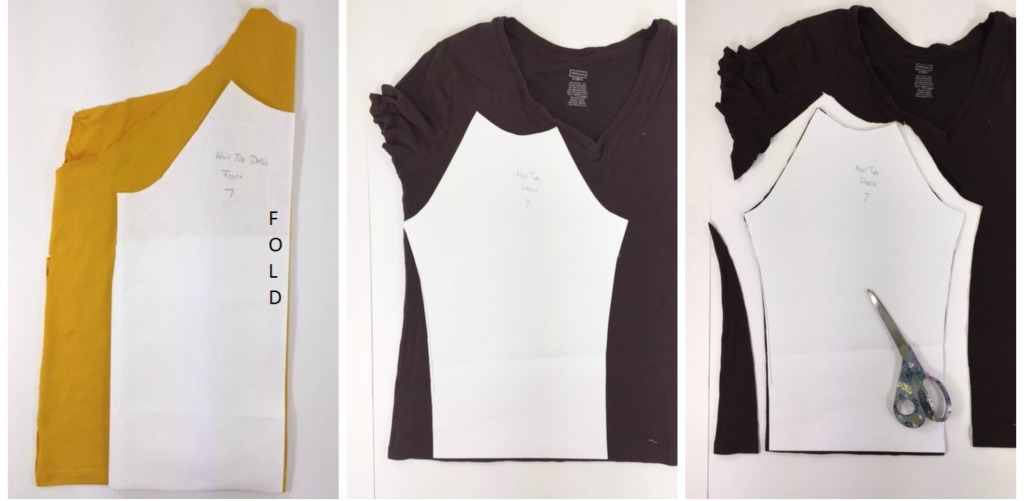 These are the pieces for front and back I have cut out (my sleeves are not showing):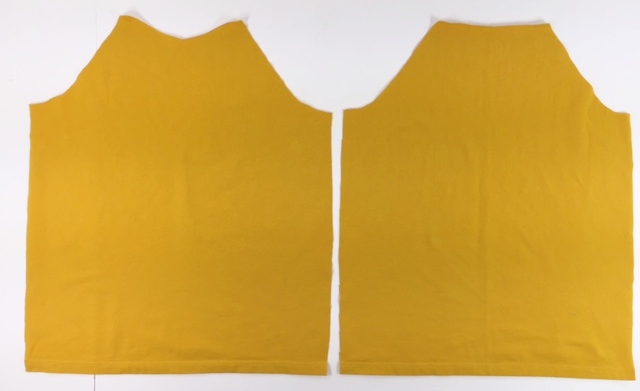 For decoration I wanted to add a little bow so I cut 2 pieces about 3″x4.5″ and 3″x 3.5″.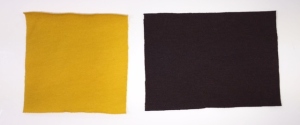 I placed those on top of each other with the larger piece on the bottom and hand stitched both together in the center to form a bow.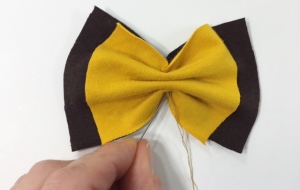 I followed through with my sewing pattern instructions for the most part and created this adorable raglan style knit top for my daughter. I added the bow and that made it girly! This is my finished modified top using existing hems on knit t-shirts!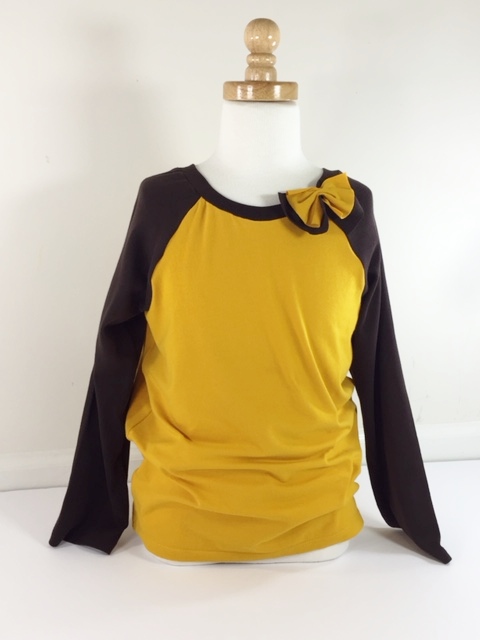 I hope you enjoyed this free tutorial and might consider signing up for my blog updates! Don't worry, I won't send out too many;)
Stay connect with Whimsy Couture:
Whimsy Couture Sewing Patterns | Facebook | Blog | Twitter | Linkedin | Google Plus | Instagram | Pinterest | Tumblr
>