We now have an affiliate program so you can start earning whenever you promote your creations sewn with Whimsy Couture sewing patterns! It's easy, just sign up HERE and you will get your own affiliate code. Before you do, please read the following information as it will provide valid insight for you.
Benefits of becoming a Whimsy Couture affiliates:
earn a percentage every time you refer a customer to Whimsy Couture
make 20% off of each sale
showcasing your sewn creations with our patterns and your dedicated link, it's a win-win!
Requirements for being an affiliate:
you should have either a blog or other social media platform that you can share your links on
a valid paypal address so you can receive your payouts
affiliate links shared on social media (especially on facebook) must be clearly identified as affiliate links (on fb you can use #aff or type (affiliate link) or similar.
affiliate links shared on blogs must have a clearly stated disclosure that those are affiliate links. See this article from the Federal Trade Commission on how write one.
you cannot use your own affiliate code to purchase patterns for yourself.
How to register for an affiliate account:
(the following information is needed in order to register successfully)
first name
last name
username
contact email
website (can also be your primary social media channel)
password
paypal email (this one is very important in order to get paid)
How to get paid:
We will pay in the first week of each new month when the amount of $5.00 has been reached. Lesser amounts will be paid in the following month if the $5.00 threshold has been met by then. Edited Jan.30-2017: any amount will be paid out!! In order to pay you, we need a valid paypal email.
How to grab a specific pattern link with my affiliate ID:
This is really easy. Find the pattern you want to promote and add your affiliate ID right behind the URL. For example, my affiliate ID is ?affiliates=2 and I want to promote this listing https://whimsycouturesewingpatterns.com/product/sweet-baby-doll-dress.
I simply add ?affiliates=2 to the back and this will give me my personal affiliate link: https://whimsycouturesewingpatterns.com/product/sweet-baby-doll-dress?affiliates=2
How to post affiliate links to social media:
Not everyone likes to copy/paste the full URL into a facebook post since you can't hyperlink it. A shorter (and prettier link would be great!). Bitly offers a free service for transforming links to something shorter and with the benefit of covering your affiliate code (the last portion of the code with ends with ?affiliates=2 for example, which is mine).
My affiliate link would read like this https://whimsycouturesewingpatterns.com/?affiliates=2 which is very long and has my number in the back and obviously tells everyone that I'm an affiliate. Bitly lets you paste this long URL into their software on the top left and by hitting 'enter', it brings me this much smaller and prettier link which I can now share everywhere. Then I can hit 'copy' and paste it to my posts.
                                                                                                              https://bit.ly/1TPMpIS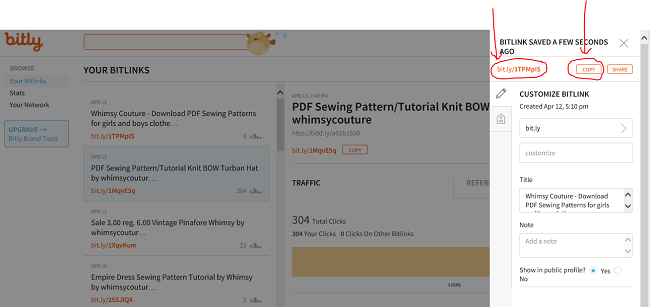 Another great benefit of using bitly is that you can track your views to your shortened links. That's great for checking to see which links (or products) are more popular than others.

Further, you can use bitly as a library for your links. That means if you like to promote different patterns or products at different times you can type that special pattern or product into the search box on the top right and it bring you all links up with that description. It doesn't have to be the exact title, just key words will work.
How to post affiliate links on your blog:
For this paragraph I can only talk about blogs hosted at WordPress (self hosted, not .com). I used to have a blogger blog but never posted affiliate links, so I don't know if this is the same.
Not to go into very much detail, Google can see if you posted an affiliate link and might not show your site to people or they might even drop you in rank from their search engines. In order to prevent that your site is being indexed, you can cloak or hide affiliate links. For this blog I use a free plugin called Easy Affiliate Links which makes it very easy to convert your affiliate into a hidden one. Further, you can rename the URL that shows when you hover over a link, to one that suits your blog. For example, the affiliate link of the Sweet Baby Doll pattern would show when someone hovers over it. Try it out, then you'll see what I mean. With the Easy Affiliate Links plugin you can change the URL to something prettier that doesn't look like an affiliate link. For example, I would name it https://www.whimsycouturesewingpatterns/sweet-baby-doll-pattern. The ending is important as "sweet-baby-doll-pattern" would show for the viewer. Makes a much better user experience that if someone would see "?affiliate=2", right? And the plus point here is that Google won't be able to see it.
If you are using a different platform or a different blog theme (I use Genesis) then google what plugin or solution you would need in order to cloak an affiliate link.
After all, we want to make being a Whimsy Couture affiliate as easy and lucrative as possible! Thank you so much for your interest!
Join our facebook affiliate group to get updates on new pattern releases, sales and specials.
>>>stay tuned for a Whimsy Couture ad banner which you can place to your blog<<<