Premade ruffle fabric is not only great to use for making clothes etc. but also for adding special touches to "regular" patterns!
For this project I used my NO SERGER BLOOMERS pattern and followed the steps for the longer legs up until section "to sew legs together".


You want to spread out your bloomer leg with right side up and place a strip of ruffle fabric (about 2-3 rows of ruffles) onto the leg piece.  You can leave the bottom hems unfolded but serge the edge or use a zigzag stitch. I placed my ruffle fabric strip so that the bottom ruffle hem aligned with my leg hem.
Use elastic thread in your lower compartment and regular thread on top. That way your leg will scrunch up a bit.


Then pin and sew two rows right above the top ruffle row with a long straight stitch and tension at 2-3: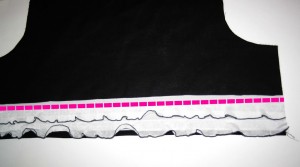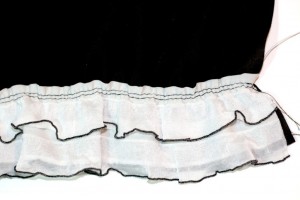 Then steam press the sewn area from the wrong side and finish bloomers as instructed.


Now you have a beautiful customized pair of bloomers for your little girl! The matching PETTI RUFFLE TANK/DRESS pattern is available HERE.