Sewing for baby is fun when you can use soft, cuddly fabric! In this post I am sharing a free pattern with you for adorable cuffed baby pants. Sew these for a baby shower gift or for your own little one! One size is included!
Welcome to another adorable free sewing pattern!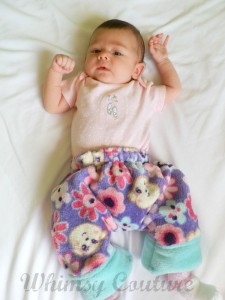 By now you must know my love for Cuddle Fabric by Shannon, right? I love everything about Cuddle. Even the fuzziness (okay, maybe not that much but you get the idea, right?) What I love is the amazing softness of every material I get to use from Shannon Fabrics. It also amazes me how well this stuff does in the wash! I have never had any issues with laundering Cuddle fabric which I did for this free baby pants sewing pattern.
My tips to wash and dry Cuddle Fabric:
Wash and dry it right after cutting the pieces! This eliminates a lot of the fuzz and shedding from the cut edges. Then, finished projects wash just as well. On low temperature with little gentle detergent and a dryer sheet for the low heat drying circle does just fine. Just make sure you really select low heat.
A few things to pay attention to:
Position your Cuddle fabric with the nap going down, meaning the fibers should lay flat once you pet the material from top to bottom. This is of course easier if you have a directional print. Then place your templates onto the fabric and pin in place with LOTS of pins. I usually pin every 1".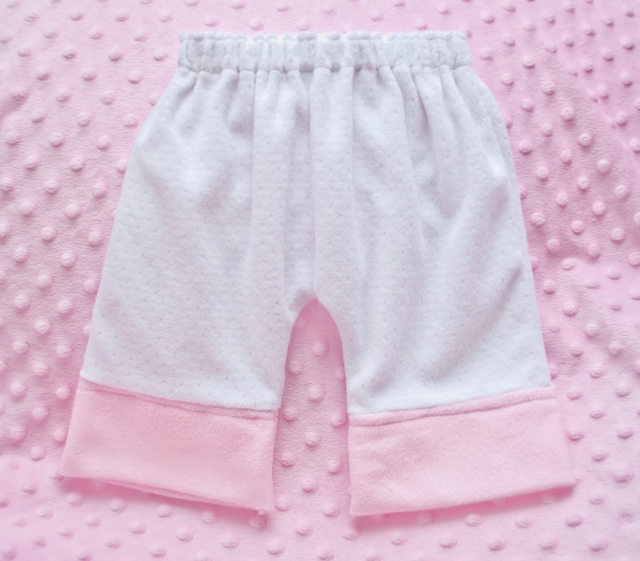 Do you feel ready to tackle these adorable baby pants in size 0-3 months? They are actually harem style pants because they don't have a crotch seam. They are super fast to sew and are an easy peasy project to begin sewing with Cuddle Fabric! Alright, then click the download link right underneath the picture! Print the template which is in newborn baby size, without scaling. Double check the 1" print scale. Then follow through with the short tutorial. You will love this little free project.
Free Baby Pants Sewing Pattern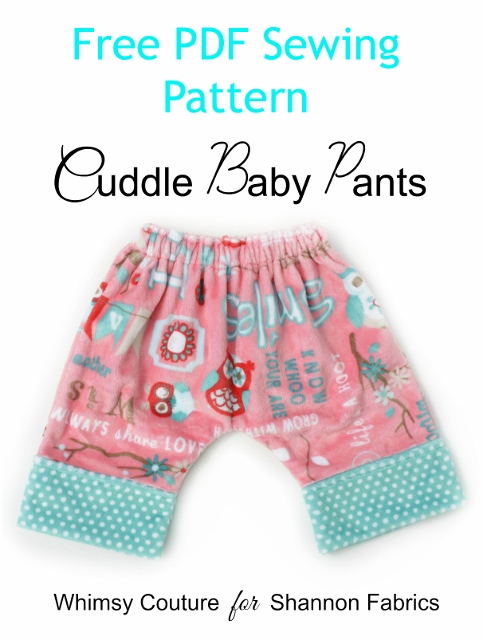 This is cuteness overload! Ready to get your Free Baby Pants Sewing Pattern? YEAH!! Click H E R E !!
Find more free patterns at my other website at DIY Crush!
Like Whimsy Couture sewing patterns? Shop right H E R E !