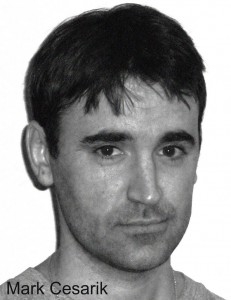 I am very excited to present a new star on the fabric designer horizon! Mark Cesarik!
Mark just launched his first collection produced through Free Spirit and let me tell you, it's fantastic! I posted about it HERE.
Not only can I present you this awesome line but I was lucky enough to have Mark do an interview with me and offered a treat to my readers:
1)where were you born and raised?
Born in Buffalo, New York and raised just outside of Cleveland, Ohio.

2)how did you get started designing fabric?
My first time designing fabrics came when my girlfriend (now fiance), an avid crafter and sewer, asked me to design a fabric for a pattern she was making. She had just heard of a company called spoonflower where you can design your own fabrics by the yard and this really gave us a chance to actually design our own fabrics. This was in 2007, and that, along with the fact that we had just gotten a perfect little puppy named Bettie, led to us forming Sew Bettie in late 2007.

3)what inspires you?
Wow, that's a loaded question and I hope it doesn't sound like I'm giving you a generic answer when I say everything. My background is in painting, drawing and design, so I suppose that, as a fine artist I've always just kind of taken things from everywhere; some of my favorite artists, my physical environment, whether natural or man-made, my emotions that I'm feeling at the time. I have been a city-dweller for my entire adult life so the modern urban environment has always had a profound effect on my instincts as an artist and designer as well.

4)how long did it take you from the first thought of a design to the actual finished fabric line?
That's a tough question as well. Most of my direct visual references come from my sketchbook, and it depends on where that reference has come from, when I first made it, etc. But I'd say that after I have a good jumping off point a collection can take me anywhere from 2-to-6 weeks … although maybe more … or less. Ha. Calypso Swing was my first full, cohesive collection. With Sew Bettie I always was designing individual fabrics and wasn't thinking so much of quilting as I was finished products and accessories. Designing as a complete collection is a different animal in its entirety, obviously, as you have to think beyond what you are working on at the moment and how that fits as a part of a group.

5)who are your fabric designer idols?
As a relative outsider to the quilting/crafting world I'd be lying if I said that I had a ton of fabric designer "idols" so to speak, but I really find myself drawn to designers such as Amy Butler, Heather Baily and Anna Marie Horner. What these women design transcend more than just quilting or crafting, I really think a lot of their designs translate very very well to all areas of surface design.
6)do you have assistants or do you design by yourself?
Sometimes I ask my "assistant" (my fiance Cara) for color suggestions. It's kind of funny sometimes when I am stuck in a rut I'll look up and say "Ummm …. yeah why don't you come on over and try out some color options. See you in 30 minutes." Other than that its just me.
7)what makes your collection stand out from others?
I would say that my relative "outsider" status is evident in my first collection. It has an edge to it that might be a little harder to find in this industry.
8)when will we see some of your wonderful animal designs on fabric?
I love incorporating animals into my fabric, in particular dogs, I designed quite a few pooch fabrics under the Sew Bettie Label, but for my first Free Spirit collection I wanted to go in a different direction. I have a feeling that you might see some furry animal references in the near future.
9)where would like to see your fabric being used for?
Everything! Quilts, clothes, accessories. I love all elements of surface design and hope to design just about everything that I can.
10)lastly, do you have any advice for the newbie fabric designer and those who want to be one?
My main advice to anyone doing anything creative, weather that's designing fabrics or oil painting, is to stay committed to the work. The work is the most important thing, That's what artists live for, to enjoy and struggle with the process and to see it to it's completion. Outside of that the main thing is getting your name out there. In this industry I love the entrepreneurship that is required of anyone who hopes to make a career out of it. Cara and I have put a lot of effort getting Sew Bettie off the ground and obviously almost 4 years later my first fabric collection from Free Spirit is coming out. It's certainly been a process.
Thank you Mark, for this great interview! It was a pleasure to have you here! Good luck with your fabric designs!
Now to the treat I promised! Mark has generously offered to do a giveaway on Whimsy Couture and I am so excited to this! NOW CLOSED!!
Mark is giving away 1 yard of his collection
Calypso Swing
: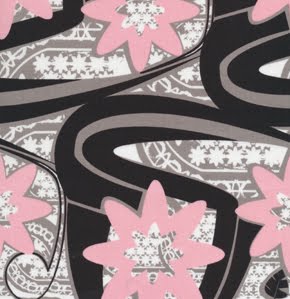 and 1 yard of Rythmic Toss: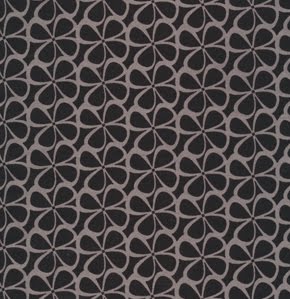 For some great inspiration visit Mark Cesarik's Website.
How to enter: NOW CLOSED!!
All 3 entries are mandatory!
visit Free Spirit and name your favorite print from the Calypso line!
follow Mark Cesarik's Blog
subscribe to Whimsy Couture Blog via email (pink box on top right)
Open worldwide – open until Feb.7, 2011 NOW CLOSED!!