Welcome to a new review today! I would like to introduce you to the Stitch Box Monthly, a company that offers surprise boxes that contain sewing related things such as fabric, sewing patterns, tools, notions, accessories etc.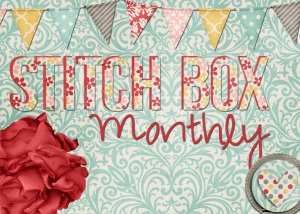 The box is available through subscription of 1, 3, 6 and 12 months. Perfect for any seamstress who loves the surprise of sewing goodies!
I have received such a wonderful little surprise box in the mail a couple of weeks ago and could not wait to get started!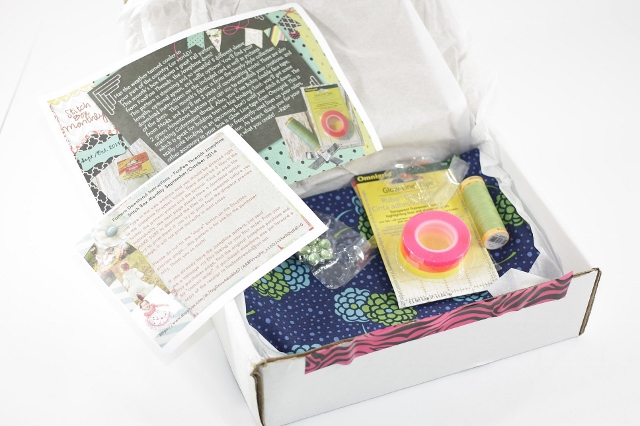 This is what I found in my box
Two awesome high quality yards of woven fabric from Vanessa Christenson from her line "Simply Style" produced by Moda. They are absolutely beautiful and match nicely. A sewing pattern (through dropbox download link) for a pretty girls dress.

Then there were two of the most divine rhinestone buttons with shank. They matched the fabric perfectly! I absolutely love how they sparkle!
Further included was Glow-Line Tape from Omnigrid, used to highlight lines and shapes on rulers but it also works great to mark seam allowances right on your machine! I used it right away on my lip edge ruler.
I also found adhesive double sided tape from Bohin, a french company. This tape works fantastic to tack fabric down before sewing. Further down I'll show you what I used it for.
Last but not least, the Stitch Box came with matching thread from Guterman, girl I was in heaven!!!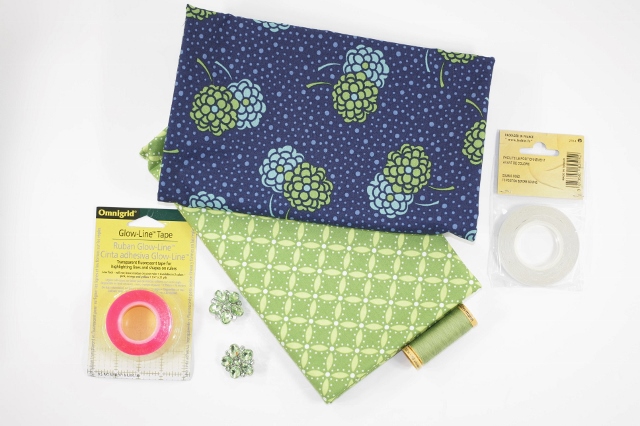 Although I loved the pattern this Stitch Box came with, the Josephine dress from FooFoo Threads, I chose something else. I really love rompers and decided to go with an adorable romper pattern from Little Kiwi's Closet.
____________
Please see the following tutorial on how I added the fabric patch which I cut to 4×6″ for my size 2t romper.
 And here is my finished project, a cute romper with long sleeves and full length legs which is perfect for fall and winter! What do you think about it? Those fabrics go together so well!!If you are now ready to get your own little box of surprise delivered to your door, then head over to the Stitch Box Monthly and subscribe!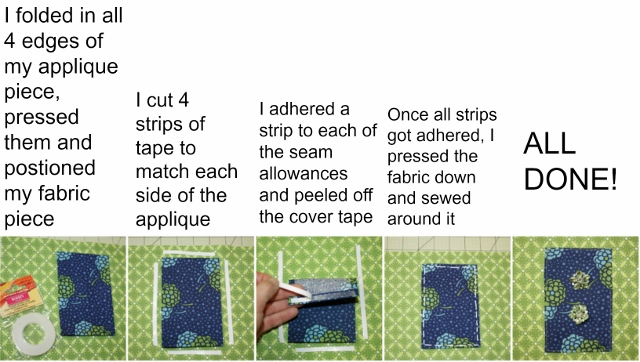 Feel free to share this post via social media and pin it to your pinterest board (on top of post)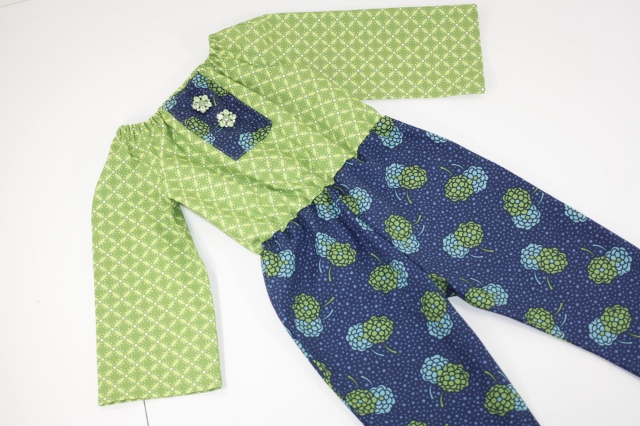 Find the Stitch Box Monthly here: