Today I want to show you a great way for finishing hems other than serged/rolled hemming. Some patterns require a hem finish with a serger but what if you don' t have a serger? You can use this tutorial to finish any 'to be serged' hem other than with a serger.
The 'secret' is…..binding! I promise you, once you have tried to bind hems you will love it! But promise me, that you will take the time to read this tutorial with PLENTY of time on your hands! 'k?
Further, this tutorial shows you a great way on how to prevent adding elastic by sewing with elastic thread, a.k.a. shirring. Some machines have trouble shirring so this tutorial will give you a tip on how to use regular band elastic.
I am using an amazing fabric called 'Double Gauze' in blue by Organic Cotton Plus. OMG! The quality is beyond anything you will ever know! I picked this fabric just to work on something different than organic knit fabric which I have LOVED reviewing. See in THIS post and in THIS one. I was lucky to get to pick two different things, the gauze and some beautiful lace in off-white, almost beige. I loved the combo with the denim/off-white of the double gauze and the off-white lace. the lace is grippy and simply lucious, almost looks like tea stained. It's organic and that is worth SO much!
This is what I have received from Organic Cotton Plus: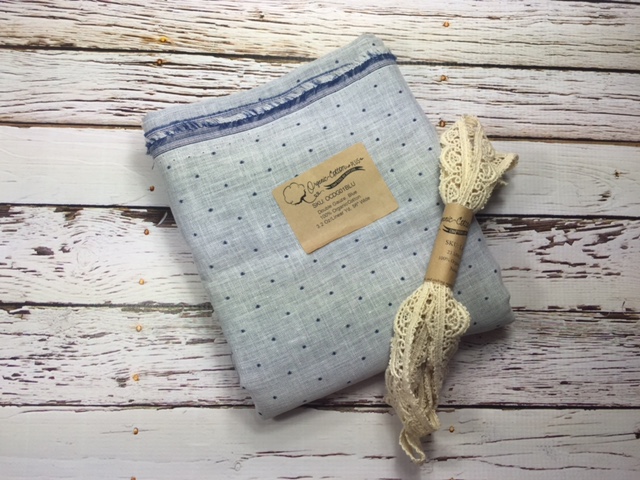 1 yard of double gauze in blue (sku: OCDG01BLU) it is 56″ wide and weighs 3.2oz.
2 yards of natural cotton lace 23mm. (sku:LA5278)
---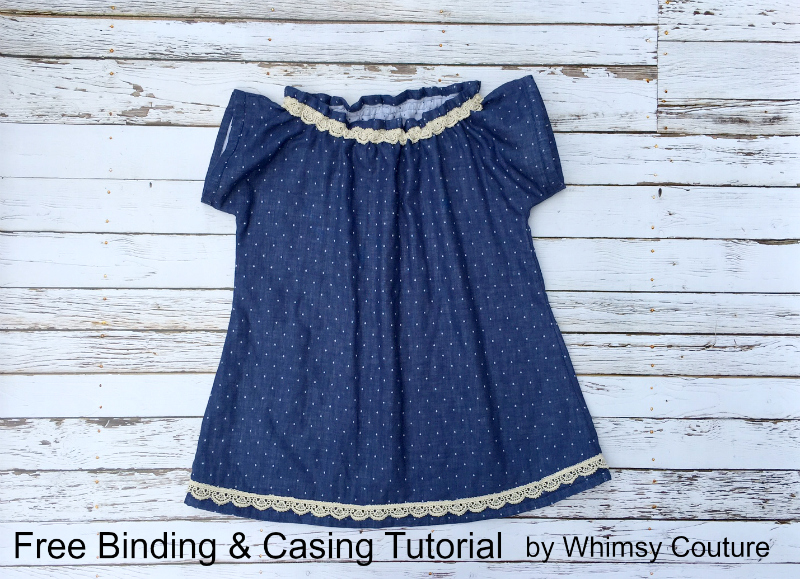 As you can see the fabric looks light with dark dots but you can use it either way. This double gauze is great on both sides. I intended to use it with the light side up but then kind of loved the way it looked on the denim side. It matches beautifully with denim jeans and the top I was going to make was for my daughter and she loves jeans. So it was a done deal. I used the darker side on the outside. First, I pre-washed the fabric and dried it on low. Then I ironed it. I must say, then I knew I was going to love sewing with it! It is such a great quality with a very soft touch and once it's pressed, it is basically wrinkle free.
See the free tutorial on how to finish hems without serger and add elastic without the shirring method HERE!
Disclaimer: I have received the fabric and lace from Organic Cotton Plus in return for a honest review. I have not been paid for this review other than with the fabric and lace. All opinions are entirely mine.
To find Organic Cotton Plus, visit them here: