Hi everyone! I am sorry there weren't any posts in the past few days! Hope you all had a happy Halloween!
Whimsy Couture is wrapping up a new pattern which will be a vintage inspired cape with options! So stay tuned!
In the past two days I started decorating/redoing my daughter's room and thought it would be fun to post the series here.
Besides sewing and a crafting I love painting and decorating but don't get to do it very often. Or I should say, I don't take the time to do it. After moving into our new home one year ago we lived with white walls since then. Recently we got around to having our kitchen/great room painted (yes, we hired someone to do it because that was so much wall space!).
This time I decided it was time to make my daughter's room special. I wanted to be the one that painted it for her! I discussed colors with her and she loves aqua and zebra. So I chose a vibrant and warm color as the complimentary hue, CORRAL GOLD (from Behr). It's beautiful and reminds me of being on vacation when I am in the room now.
Okay, let's get started:
Here's a picture of her room. Notice our little Jack Russell sitting on the bed?:)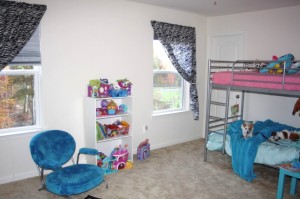 picture of the other wall where I had already put up a wooden picture shelf. That made it now a bit harder to paint around with all that taping up but oh well!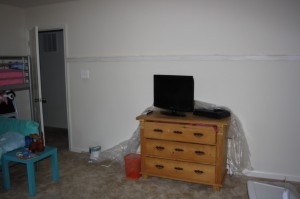 Here's a picture of right around lunch time………I ran out of paint in my tray so I took a (quick) lunch break!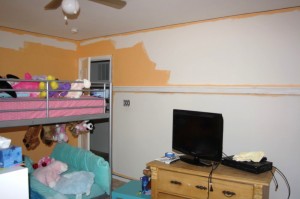 HERE'S a picture of ONE finished wall! Not too bad! The glossy and shady spots are from the paint not being dry!;)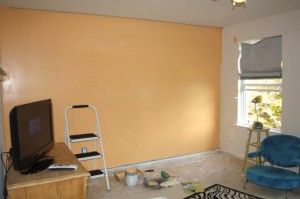 Stay tuned for more updates and pictures!!