This cutie pie pj was made with my TERRIFIC TEE pattern and my KNIT LEGGINGS pattern!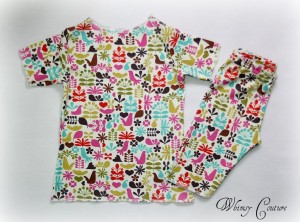 Here's what I did differently than what both patterns instruct to do:
I chose a smaller size the top and shorts because I wanted the pj to fit more snug
After I traced my size from the pattern template, I trimmed down the neckline 1″ since I wanted to serge it instead of folding down
Then I trim off the sleeve hems 1″ for serging them
While tracing the leggings I shortened the legs to about mid way because I wanted "shorts":)
Then I sewed the top as instructed and serged the neckline and before finishing the side seams I serged the sleeve hems and bottom hems. Then finished the shirt.
For the shorts I serged the bottom hems first and then finished them
Last step: ENJOY!
This fun little pajama was made using comfy Michael Miller knits (prewashed!!) and was done within 30 minutes!!
Want those patterns? Get them from my instant download pattern shop! No more waiting, just pay and download!
~*~*~*~*~*~*~*~*~*~*~*~*~*~*~*~*~*~*~*~
Do you write tutorials for anything sewing related?
You can now guest blog right here!!


Click the banner on the left to learn more!