My hobby besides sewing is definitely crafting and that includes decorating. I recently came across an etsy shop called
Zzbob's Creative Woodworking and they hand make beautiful shapes out of wood.
The following curvy frames just arrived at my house and now they are waiting to be turned into something beautiful! I also received something extra for a review!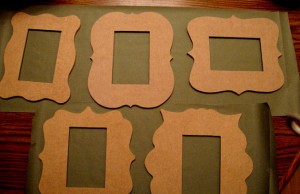 Read what Pam and Bob say about their business:
"Bob loves to work with wood but he also loves trees, so we use lot of reclaimed wood. Then we purchase the rest from Forest Council certified suppliers.
We believe that with a little thought and effort, we can all have beautiful things without harming the earth. He loves to make "wood pictures",an art form called Intarsia. He also does scroll work,wood puzzles, jewelry and keepsake boxes—you get the picture.
Pam loves to work with glass and tile, and sometimes we team up for some mixed media creations. If you are looking for something special, let us make it for you! We love getting orders for custom pieces. We like to help bring your ideas to life!"
My first step is to take on those frames and prime it. Stay tuned for the finished project!